Magnificent Water Heater Repair Contractor in New York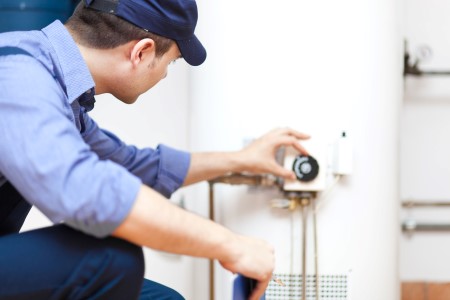 When you need water heater repairs or replacement, call to our New York Plumbing Contractor at Clover Heating & Cooling. We're the home performance and green home professionals in the New York area specializing in quality water heater repairs and installations.
Your home's plumbing system is a complex system that relies on all parts to function correctly to deliver fresh water to your home and remove unwanted wastewater. When one part of your system isn't working properly, it can affect your ability to obtain water or get rid of wastewater.
Hot Water Heater Cleaning & Maintenance Plans
You may not realize it, but your hot water heating system needs regular cleaning and maintenance. The components within your water heater need to be maintained, cleaned, or lubricated. When your New York water heater gets the proper attention, you'll decrease the likelihood of early replacement and needed repairs.
Plus, you'll have cleaner water that clear of sedimentary buildup that can coat pipes, fixtures and be bad for your health. Our maintenance plans are very affordable, so be sure to ask our Water Heater Repair Contractor in New York about getting water heater cleaning on a one-time basis or sign up for our Service Club and give your water heater all the attention it needs.
Expert Water Heater Repair Contractors
The water heating portion of your plumbing system is an important part of delivering hot water to wherever you need it in your home. If the water heater fails or has parts broken or in need of maintenance, you'll not have access to heated water.
There can be many causes of water heater failure, from simple problems like a heating element going out to full-blown issues that mean it's time to replace the unit. Whether you have a tankless water heater or tank water heater system, our expert Water Heater Repair Contractor in New York can find and fix the problems.
Many brands and models of water heaters require certification for technicians to be legally able to work on them. So it's important to who you choose to make the repairs. You want someone not only able to do the work but who is professionally licensed and certified. Our plumbing contractors are fully licensed and certified where needed to fix any water heater unit you have in your home.
Tankless Water Heater Repair or Installations
Tankless water heater systems are great ways to save on energy consumption in your home. Why have a storage tank filled with hot water that has to be constantly heated even when you're not going to use it for hours on end? Instead, you could have hot water at any time without having to pay for it to be heated while in a storage tank?
Tankless water heaters are fast becoming the favorite system for new installation and hot water tank replacements. Homeowners realize how much they can save on space and energy bills with this change. Our Water Heater Repair Contractor in New York always says, if there's a better way to do things, why not do them the new way? Wouldn't you like to heat your water quickly but pay less for it?
Another great aspect of the tankless water heater system is that you can customize them to your needs. If you need only one in a certain area of your home or you'd like hot water available from every faucet, our Water Heater Repair Contractor in New York can help you map out or plan your system that will meet your specific needs.
The Top Four Benefits of a Home Energy Audit
As a homeowner, you are always looking to improve the energy efficiency of your property. Scheduling a home energy audit with our Westchester County, NY team at Clover Heating & Cooling is a great way to achieve this. By taking the time to get a home energy audit, you can ensure that your home runs […]
Is Your Home Safe? Four Health Precautions To Take
Your home should be a safe haven, but sometimes there are hidden dangers lurking out of sight. Clover Heating & Cooling cares about your health and is here to help you take the necessary precautions to ensure a safe home environment. Here are four easy steps to get you started: 1. Change Your HVAC Filters […]