Our Planned Service Agreements!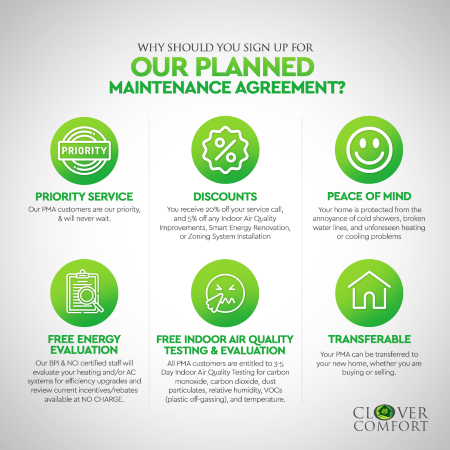 To maintain what we call home wellness, and protect your investment, Clover Comfort offers the Planned Service Agreement. Our experience confirms that servicing your heating and air conditioning equipment regularly is the best way to protect your investment. Our maintenance plan helps you avoid unexpected repair bills, reduced operating costs, and maintain the highest efficiency from your heating and cooling system. Our expert technicians perform precision tune-ups. We retain comprehensive records of your system's operation. At your convenience, we'll send one of our technicians to your home or business to perform a comprehensive inspection which includes a complete cleaning of the outside condenser and servicing of your system.
Heating Plan
Check and Adjust Thermostat
Check Filter and Blower Wheel
Check and Clean Main Burners
Check and Clean Heat Exchanger
Check and Clean Flame Sensor
Test and Adjust Main Gas Pressure
Check and Adjust Temperature Rise
Evaluate and Test Air Duct System
Replace Standard Filter
Cooling Plan
Check and Adjust Thermostat
Check Filter and Blower Wheel
Evaluate and Test Air Duct System
Check and Test Wiring on A/C unit
Test and Clean 24 Volt Contactor
Test and Evaluate Condenser Coil
Check Temperature of Air
Evaluate and Test Refrigerant Charge
Replace Standard Filter
Plumbing Plan
Clean and Flush Water Heater
Clean Water Heater Burners
Check Dip Tube For Deterioration
Check Water Heater Relief Valve
Check and Test Sump and Ejector Pumps
Check All Emergency Water Shut Offs
Check All Emergency Gas Shut Offs
Check Home Piping Compatibility
The Home Wellness Planned Service Agreement Includes:
2 OR 3 PLANNED SERVICE VISITS – no additional charge.
FREE DIAGNOSTIC CHARGES – during normal business hours.
PREFERED PRICING – 20% Discount on most repairs.
PREFERED OVERTIME PRICING – on emergency service.
PRIORITY SERVICE – 1st on the list
FREE WHOLE HOUSE ASSESSMENT – $500-$2000 value
FREE INDOOR AIR QUALITY MONITORING – $329 value
PERSONAL SERVICE – request your own comfort specialist
FREE DUCT EVALUATION – for restrictions & leakage
FREE CARBON MONOXIDE HEALTH & SAFETY TEST
The Home Wellness Planned Service Agreement Saves You Money Because Someone Cares
Our Services In New York
Is A Furnace Right For Your New York Area Home?
Is A Furnace Right For Your New York Area Home? When the time comes for you to replace your old heating unit, you need to ask yourself, "Should I take this opportunity to switch out for a furnace?" We certainly think so, as a furnace has some genuinely excellent benefits to offer your home. On […]
Boilers Vs. Furnaces Summer is winding down, and here we are once again preparing for another stretch of cold fall and winter months. And first and foremost, this preparation will involve outfitting your home with a heating unit. And when it comes to heating your Westchester home, two options to consider are boilers and furnaces. […]