New York HVAC Humidity Control – Lower Your Bills, Increase Comfort!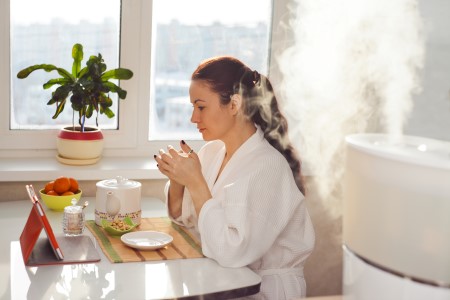 There's a science to managing comfort in your New York home, and Clover Heating & Cooling knows it. Just locating and eliminating air leaks can cut energy bills up to 30%. Unlike other HVAC companies, we do computerized load analysis to determine the right capacity for your heating and cooling equipment-another way of reducing energy expenditures.
Besides lowering your utility bills, humidity control is critical to your health for a couple of reasons. Mold, which thrives in high humidity, is dormant or dies when the humidity is low. Dust mites also die when the humidity stays below 50%. But remember, the dust mites in your bed rely on you for their source of humidity, so always use mattress covers, pillow covers, and box spring encasings.
On the other hand, below 30% relative humidity, people can be uncomfortable and can suffer from dry mucus membranes, leading to nosebleeds and infections. Low humidity can aggravate asthma symptoms, and high humidity at high temperatures can sometimes lead to heat exhaustion or heat stroke.
Honeywell Humidifiers
Many humidification work only when the heating system is actively running. The Honeywell Whole-House Steam Power Humidification works effectively with your heating system but lets you control the humidity independently, so you can add needed moisture to your home without turning up the heat. Honeywell's Steam Humidifier features a thermal switch that turns on the system fan as needed. You'll be able to set the humidity where you like it and enjoy consistent, reliable comfort.
Even more, you'll enjoy a clean, efficient system. The Honeywell Steam Humidification features a two-stage water treatment that eliminates scale build-up to ensure clean, reliable performance.
The Honeywell Whole-House Steam Humidifier is the perfect choice for homes requiring increased protection for wood flooring, furnishings, and decor.
Our New York Humidifiers Provides These Detailed Services
Humidifiers
Best Humidifier
Humidifier
Best Humidifiers
Room Humidifiers
Aprilaire Humidifier
Honeywell Humidifier
Vicks Humidifier
Furnace Humidifiers
Sunbeam Humidifer
Humidifier Reviews
Air Humidifier
Why New York Should Hire Us For Their Humidifiers
Clover Heating & Cooling provides the full range of Honeywell humidifiers. During the heating season, a whole-house humidifier is strongly recommended for several reasons. Proper moisture balance minimizes damage to the wood in your home from excessive dryness; humidifiers can help your family maintain good respiratory health, and dry air makes you feel colder than the actual thermostat setting. You can actually lower your heating bill, too, since humidified air feels warmer.
The Top Four Benefits of a Home Energy Audit
As a homeowner, you are always looking to improve the energy efficiency of your property. Scheduling a home energy audit with our Westchester County, NY team at Clover Heating & Cooling is a great way to achieve this. By taking the time to get a home energy audit, you can ensure that your home runs […]
Is Your Home Safe? Four Health Precautions To Take
Your home should be a safe haven, but sometimes there are hidden dangers lurking out of sight. Clover Heating & Cooling cares about your health and is here to help you take the necessary precautions to ensure a safe home environment. Here are four easy steps to get you started: 1. Change Your HVAC Filters […]