Cold Climate Heat Pump Installations, Maintenance & Repairs
Keep your New York home comfortable year-round with an energy saving, environmentally friendly cold climate heat pump. Cold climate heat pumps, also known as ductless mini-split systems, provide a renewable energy option for your heating and air conditioning needs.
How Do Heat Pumps Work?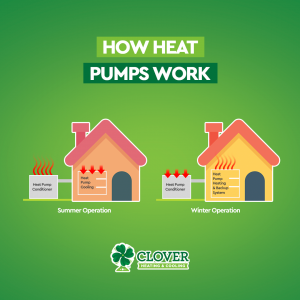 Cold climate heat pumps work by moving heat found around them. As Mitsubishi Electric explains: "They move thermal energy between indoors and outdoors instead of generating it from a combustible source. In winter, using a refrigeration cycle, heat pumps draw heat from the outdoor air and transfer it to the interior. In summer, they pull heat from the interior and transfer it outdoors to keep buildings cooler."* With this process, the need for fossil fuels is eliminated, leaving you with a greener heating and cooling system and a greener home!
Incentives, Financing & Rebates
NYS Clean Heat Program: Low-interest financing and loan options are available through NYSERDA.
CON EDISON: In addition to NYSERDA's special financing, Con Edison is offering up to $12,000 in incentives for the installation of cold climate heat pumps and heat pump water heaters**:
Geothermal Heat Pumps: The most efficient heating-and-cooling technology available. Ideal for single family homes with lawn space. Most customers qualify for an average of $12,000 in rebates.
Central Air-Source Heat Pumps: Great for buildings with existing central-air-conditioner systems that need to be replaced, or new construction projects. Get $5,000+ in rebates.
Heat Pump Water Heaters: Ready to replace your water heater? Heat pump water heaters are three times more efficient and can save you about $350 a year. Get $1,000 in rebates.
Contact our office to learn more about the current savings available through incentives, rebates and special financing for cold climate heat pump installations: 914-631-6744
Heat Pump Benefits
Cold climate heat pumps have numerous benefits for New York residents, including:
Energy savings – a cold climate pump can save up to 40% of the energy costs associated with boilers and furnaces.
Money saving – with the energy savings mentioned above comes corresponding savings on related utility bills.
Clean heating – the use of a cold climate heat pump does away with the use of fossil fuels, reducing your home's carbon footprint and helping your family go greener.
Safer heating – without the use of fossil fuels, the risk of carbon monoxide leaks and potential CO2 poisoning is greatly reduced in your home.
One unit provides heating and air conditioning – cold climate pumps provide heat AND air conditioning for your home. You'll pay to install just one system instead of 2 and will only have to worry about the maintenance on that equipment.
Easy installation/No ducts needed – with their ductless setup, cold climate heat pumps are easily installed into any living space without the need for ductwork.
Perfect for additions – if you are adding to your home, a ductless heat pump is the easiest way to provide comfort to your new space. You'll avoid the headache of tying into existing heating and cooling systems and the potential of bogging the operational efficiency of your HVAC equipment down with additional rooms to keep warm or cold.
Space saving – without the need for ductwork or large equipment inside of your home, such as a furnace, you'll save valuable space for other uses, such as storage.
Zone heating and cooling – with the installation of up to 8 indoor air-handling units per outdoor unit, you can set up zone heating and cooling throughout your home, allowing for customized comfort settings and increased savings on energy and utility bills.
Long lasting – heat pumps last longer than their traditional counterparts: furnaces, boilers and central air conditioning systems.
Clover's Heat Pump Services
Clover Heating & Cooling proudly offers professional installations, repairs and maintenance services for cold climate heat pumps. Contact us today for fast service from cold climate pump experts that are backed by a 100% satisfaction guarantee: 914-631-6744.
*Wondering how your current HVAC system measures up against a cold climate heat pump? Click here to download a comprehensive comparison sheet from NYSERDA.
Rebates & Incentives From:

The Top Four Benefits of a Home Energy Audit
As a homeowner, you are always looking to improve the energy efficiency of your property. Scheduling a home energy audit with our Westchester County, NY team at Clover Heating & Cooling is a great way to achieve this. By taking the time to get a home energy audit, you can ensure that your home runs […]
Is Your Home Safe? Four Health Precautions To Take
Your home should be a safe haven, but sometimes there are hidden dangers lurking out of sight. Clover Heating & Cooling cares about your health and is here to help you take the necessary precautions to ensure a safe home environment. Here are four easy steps to get you started: 1. Change Your HVAC Filters […]