New York Ground Water Control – Sump Pumps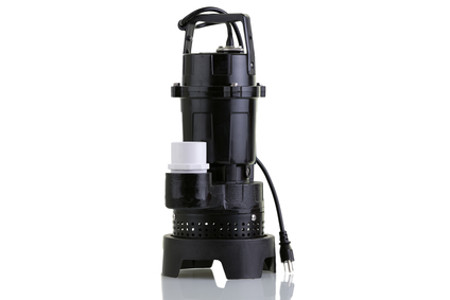 Ground water control for your New York home is important to keep flooding and pooling water at bay when the weather sends storms our way. Clover Heating & Cooling is your ground water control experts who can keep your home safe with quality sump pumps and other systems that protect your home from water damages.
Clover Heating & Cooling carries a line of sump pumps designed to remove groundwater from around the perimeter of your foundation. This helps prevent basement/crawl space seepage and flooding and protects your whole house from unwanted moisture.
Sump pumps are needed to help protect basements from flooding. Since the basement of a house is below ground, when the soil of the ground gets saturated with rainwater, water can leak into the basement. And leaking in the basement can cause thousands of dollars in damage to your foundation, wall cavities, and more.
Regardless of what type of backup power system you choose for your sump pump, you need to be sure there actually is a backup. Sump pumps are most needed during storms and flooding, and these are common times for the electricity to go out as well. If the electrical power goes out and the sump pump doesn't have a backup power source, it will not be able to prevent flooding in your basement.
Our New York Water Control Provides These Detailed Services
Ground Water Control
Groundwater Control
Dewatering
Groundwater Remediation
Basement Water Control
Water in the Basement
Surface Water Drainage
Construction, Dewatering, and Ground Control
Groundwater Control Systems
Methods of Dewatering
NY Groundwater
New York Groundwater Control
Why New York Should Hire Us For Their Water Control
At Clover Heating & Cooling, we use the best products for all of your New York groundwater control needs. But first, the water control problems have to be properly identified, and a good plan put together to take care of the issues from the start. With all the latest equipment, we're able to find where your groundwater problems start, which will give us the best idea of how to improve your home's ability to control water leaking, pooling, or flooding.
Flood Sensors can be placed in areas of your home or property such as floors, basements, or any other area that is subject to flooding. Flood sensors are frequently used to monitor the effectiveness of sump pumps. The flood sensor consists of a water detector component and a wireless transmitter. The water detector can be attached to any surface that you want to protect from water damage.
The Top Four Benefits of a Home Energy Audit
As a homeowner, you are always looking to improve the energy efficiency of your property. Scheduling a home energy audit with our Westchester County, NY team at Clover Heating & Cooling is a great way to achieve this. By taking the time to get a home energy audit, you can ensure that your home runs […]
Is Your Home Safe? Four Health Precautions To Take
Your home should be a safe haven, but sometimes there are hidden dangers lurking out of sight. Clover Heating & Cooling cares about your health and is here to help you take the necessary precautions to ensure a safe home environment. Here are four easy steps to get you started: 1. Change Your HVAC Filters […]