Clover's Medical Grade Air Sterilization System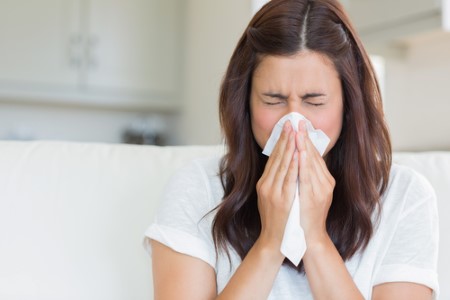 Air pollutants in the home can lead to health problems such as allergies, asthma and other respiratory illnesses. With increased consumer awareness about the health issues associated with poor home IAQ, demand for home air purification products is strong, and continues to grow.
Indoor air pollutants can affect us all, especially those homebound with serious illnesses, very young children, the elderly, and the 60 to 70 million people in North America who suffer from allergies, asthma, and other respiratory ailments. Airborne pollutants found in homes, such as particulates (dust), microorganisms (molds, fungi & bacteria), and other toxins (VOC, gases), can trigger a wide range of respiratory diseases, including:
Allergies and sinus reactions
Painful headaches
Persistent coughing, sneezing and wheezing
Recurring cold and flu-type symptoms
Chronic asthma
Chronic fatigue
Rashes
Sure, allergy medications can treat the symptoms, but physicians also recommend "allergen avoidance" taking measures to reduce or eliminate exposure to the source of the problem. For example, if a person is allergic to shellfish, but eats them anyway, medical treatment may alleviate the reaction. However, it makes a lot more sense to avoid eating them in the first place. In the same light, avoidance of airborne allergens can reduce the threat to our health and well-being.
Our New York Air Purifiers Provides These Detailed Services
Central Air Purifier
Air Purifier
Air Purifier Reviews
Whole House Air Purifiers
Whole House Air Purifier
Hepa Air Purifier
Air Purifiers
Desktop Air Purfier
Honywell Air Purifier
Air Purifier Reviews
Clean Air Purifier
Idylis Air Purifier
Why New York Should Hire Us For Their Air Purifiers
Installed in the HVAC return, Central Air Purifiers from Clover Heating & Cooling are designed to remove airborne pollutants before the air is conditioned and supplied to the living space. The high-performance CAP units incorporate tried and true methods, plus the latest innovations in air filtration technology.
Some models combine as many as four or five different air purification technologies for maximum effectiveness against a broad spectrum of airborne contaminants. Few if any other products can make that claim. All CAP models are Class II medical devices certified by Environmental Testing Laboratories to meet applicable UL electrical safety standards.
The Top Four Benefits of a Home Energy Audit
As a homeowner, you are always looking to improve the energy efficiency of your property. Scheduling a home energy audit with our Westchester County, NY team at Clover Heating & Cooling is a great way to achieve this. By taking the time to get a home energy audit, you can ensure that your home runs […]
Is Your Home Safe? Four Health Precautions To Take
Your home should be a safe haven, but sometimes there are hidden dangers lurking out of sight. Clover Heating & Cooling cares about your health and is here to help you take the necessary precautions to ensure a safe home environment. Here are four easy steps to get you started: 1. Change Your HVAC Filters […]