New York Commercial Energy Management Solutions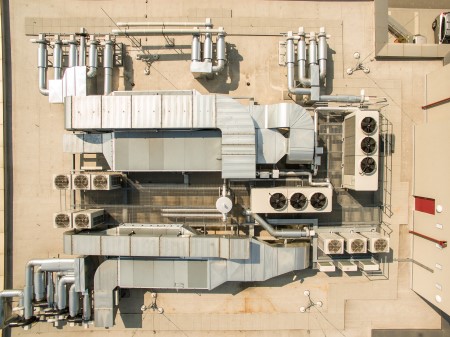 Your immediate needs may be as simple as installing programmable thermostats that communicate. Maybe you want the added benefits of zoned temperature control. Or maybe you're ready for the powerful building advantages of an information management system. Whatever your building goals, our company can help your needs.
For commercial clients with large energy costs, finding the right employee comfort solution is imperative. We furnish our biggest customers with Honeywell temperature control and management systems. Through programmable thermostats, zoning systems, and integrated heating/software management software, we make it easy to achieve comfort and convenience.
Honeywell Universal Digital Controllers (UDC) are microprocessor-based devices to control temperature, pressure, flow, and other variables. All controllers are easy to use and offer a wide range of features, including Accutune II, fuzzy logic, and communications. Both single- and dual-loop models are available to meet almost any application requirement.
Our New York Commercial Energy Management Provides These Detailed Services
Commercial HVAC
Commercial HVAC Systems
Carrier Commercial HVAC Units
Trane Commercial
Carrier HVAC
Trane HVAC
HVAC Contractors
HVAC Companies
HVAC Repair
Commercial HVAC Training
HVAC Service
HVAC System
Why New York Should Hire Us For Their Commercial Energy Management
Clover Heating & Cooling provides the full range of Honeywell HVAC equipment for your commercial Energy Management. With the best equipment available for our technicians, you can be sure your systems are properly calibrated, tested, installed, and repaired.
At Clover Heating & Cooling, we're not just about making repairs when your HVAC system fails. We're all about ensuring your building is functioning efficiently. All systems are healthy, including the quality of air, humidity levels, and everything else that can affect your building's energy management. A healthy building with healthy systems equals the most in energy efficiency and cost savings, and that's what you'll have when you choose our experts at Clover!
The Top Four Benefits of a Home Energy Audit
As a homeowner, you are always looking to improve the energy efficiency of your property. Scheduling a home energy audit with our Westchester County, NY team at Clover Heating & Cooling is a great way to achieve this. By taking the time to get a home energy audit, you can ensure that your home runs […]
Is Your Home Safe? Four Health Precautions To Take
Your home should be a safe haven, but sometimes there are hidden dangers lurking out of sight. Clover Heating & Cooling cares about your health and is here to help you take the necessary precautions to ensure a safe home environment. Here are four easy steps to get you started: 1. Change Your HVAC Filters […]