Superior New York Mini Duct Systems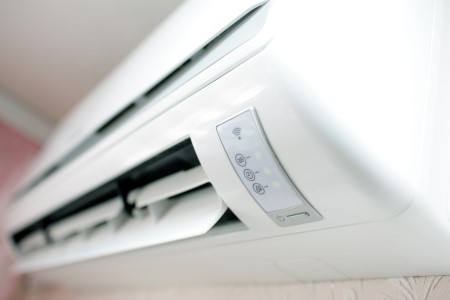 Many New York homeowners of older homes without forced-air HVAC systems, would like to add central air conditioning and/or heating ducts, but are daunted by the cost and difficulty of the installation process. Our New York Mini Duct System Contractor can help you understand and pick which system work for you. Installation of ductwork may require removing large sections of walls, floors or ceilings, or adding unsightly box chases. Call our New York Air Conditioning Contractor if you have any question about the proccess.
However, high-velocity heating and cooling systems can minimize these alterations using small diameter ducts that can be more easily threaded through floor, ceiling, and wall cavities. According to the manufacturers, these high-velocity systems operate quietly and improve dehumidification, room air mixing, and energy efficiency over standard air-delivery duct systems.
High-velocity heating and cooling systems use a special fan coil and air handling unit that generates high-pressure air forced through small diameter ducts. The main supply trunk is either a rectangular or round duct that supplies air to flexible, insulated, 2″ diameter plastic feeder ducts. Air passes through sound-suppressing tubing at the end of a duct run before entering the room through a plastic collar fitting. According to manufacturers, the air is supplied at 440 to 1200 cubic feet per minute (CFM).
High-velocity systems use standard outdoor condensing units for air conditioning and heat pump systems. As an option, a water coil can be mounted in the air handling unit for boiler heating or chilled water cooling. Alternatively, adding a bank of electric heating elements to the air handler can provide heating capability to a high-velocity air-conditioning system. High-velocity system air handlers can satisfy cooling capacities between 18,000 and 60,000 BTUH and heating capacities between 24,000 and 143,000 BTUH.
Why Our New York Mini Duct System
Unico System is a mini-duct central heating and air conditioning system that has been installed in over 50,000 homes and businesses worldwide. We can install Unico's modular air handlers and coils in ceilings, floors, crawlspaces, and closets. Its' flexible 2″ inner diameter supply tubing can be routed through existing ceiling, floor, and wall cavities, eliminating the need for unsightly metal ductwork. Unico fits where conventional systems can't and preserve the architectural aesthetics and integrity of any structure.
Features and Benefits of The Unico System
Fits where conventional systems can't, requiring little-to-no remodeling and eliminates boxy metal ductwork. Never use unattractive window or wall-mount units again!
Blends into any dècor – Unico System's 5″ diameter outlets are available in paint-able plastic or stain-able wood and are virtually in- visible once they are installed.
Draft free because it works on the principle of aspiration in which streams of air enter a room and gently mix with the room's existing air currents; temperatures are even from floor to ceiling, without the hot spots and cold spots of conventional systems.
Quiet because its supply tubing is lined with sound-dampening spun-bond nylon; you feel the superior comfort of Unico, but you don't hear it. Removes up to 30% more moisture than conventional systems because unique coils are colder than conventional coils; this is especially beneficial in areas with high humidity. Call us today to find more information on our New York Mini Duct Systems.
The Top Four Benefits of a Home Energy Audit
As a homeowner, you are always looking to improve the energy efficiency of your property. Scheduling a home energy audit with our Westchester County, NY team at Clover Heating & Cooling is a great way to achieve this. By taking the time to get a home energy audit, you can ensure that your home runs […]
Is Your Home Safe? Four Health Precautions To Take
Your home should be a safe haven, but sometimes there are hidden dangers lurking out of sight. Clover Heating & Cooling cares about your health and is here to help you take the necessary precautions to ensure a safe home environment. Here are four easy steps to get you started: 1. Change Your HVAC Filters […]